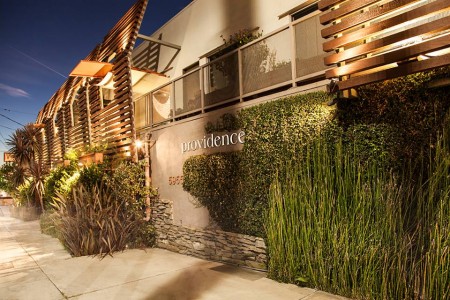 Bill:
$$$$$
Service:
☆ ☆ ☆ ☆ ☆
Address:
5955 Melrose Ave, Los Angeles 90038
Telephone:
+1 323 460 4170
Website
Providence is a modern American seafood restaurant. It stands out from its business rivals as it features high class level. The interior is spacious and bright. Though the place is popular, it is not noisy.
The restaurant became an award winning venue thanks to its renowned chef Michael Cimarusti. It offers sustainable seafood, wild-caught products from American waters. The restaurant entered the list of top-50 restaurants of the United States. Los Angeles magazine called it the Best Seafood Restaurant.
The restaurant has a range of carefully cultivated suppliers Providence has collected for a long time. Excellent experienced chefs employ a huge arsenal of techniques to deliver excellent meals using the material delivered.
The dishes are gorgeous in Providence and each bite has different texture giving you chance to enjoy full-flavored meal. The visitors who come to the restaurant often get the dilemma: what to order? Different menus provide excellent options so it is really a challenge to find the dishes you prefer.
You can be surprised over the effect the dishes have upon you. Some of them can become a real revelation that dawns upon you in your culinary journey.
Casual restaurants do not provide the sense of occasion that you can get in this place and this is a big omission. Visit to the restaurant should not be mundane, but it should be a feast of palates. Providence gives it to you.
The signature and seasonal menu includes big eye tuna with orange, black olive and saffron, assorted shellfish with Smoked Crème Fraîche Panna Cotta called the Ugly Bunch, Italian White truffles, Spiny Lobster Ravioli, Wild King Salmon and etc.
There is Providence Market Menu with striped bass, striped bass with smoked sesame, brown butter and turnip, Liberty Farms Duck Breast with mushroom, celery and smoked apple, fluke and uni egg with sea urchin under scrambled egg.
The Providence Chef's menu include sashimi, foie gras, frozen yogurt, live scallop, astisanal cheeses and other dishes.
Your choice determines the cost. 5 course meal of Market Menu can cost about $65 and full-tasting menu is about $100.  The chef's menu is the most expensive: $160.
This is the best seafood cooking in LA. The place is amazing if you can afford it.