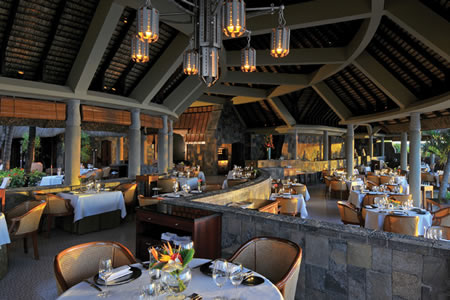 Bill:
$$$$$
Service:
☆ ☆ ☆ ☆ ☆
Address:
Royal Road, Grand Baie, Mauritius
Telephone:
+ 230 209 8300
Website
Mauritius is a fascinating, world-in-one-island slice of paradise. Its very name of conjures up images of tropical luxury and stupendous extravagance. The island is famous for cobalt-blue waters, white sandy beaches, cultural diversity and most importantly it's the place for luxury holidays. One of the most legendary hotels on the island is Royal Palm, a member of the leading hotels of the world. Royal Palm is one of those rare splendid hotels which exceed all the expectations. It is sophisticated, quiet, sedate, relaxing place where time stops and the dream starts. Royal Palm is not only famous for its luxurious suites, excellent service and perfect beach, its truly an amazing gourmet destination. La Goelette is the most refined restaurant in the Indian Ocean as it savour sophisticated cuisines from all over the world blended with the flavours of fresh Mauritian products. Natureaty has its own intimate atmosphere and offers healthy organic spa dishes. Contemporary La Bar Plage has daily chef suggestions which reflect Mediterranean specialities mixed with local spices. I had to meet the man who has created the menu at Royal Palm and find out how he manages to keep sophisticated clientele happy. Please meet chef Mr. Michel de Matteis, a French born master who has won prestigious awards 'Pierre Taittinger Culinary Prize', 'Un des Meilleurs Ouvriers de France' and 'Maitre Cuisinier de France'.
AR: When did you come to Mauritius and why did you choose to work at Royal Palm?
MdM: General Manager of the hotel offered me a job as a chef at Royal Palm in 2003 and invited me to spend a few days in Mauritius. When I arrived I said 'Marvelous!' It was love at first sight.
AR:  I agree it is a magic place. So you decided to stay?
MdM:  liked the restaurant and people; Royal Palm has a very special atmosphere. So I moved here in 2003 with my wife and three children. Mauritius is a very peaceful place and my family loves living here.
AR: Where did you work before Royal Palm?
MdM:  I am in cooking business already for 32 years! I had many great opportunities to work in various places. Before I moved to Mauritius I worked as executive chef in Monaco at Hotel Mirabeau. Before that I lived for 5 years in Divonne and worked in 1 star Michelin restaurant at luxurious Chateau de Divonne hotel. I was also fortunate to work at La Tour d'Argent in Paris, and this restaurant doesn't need an introduction as the other famouse 3 star Michelin restartant Taillevent where I worked for 2 years.
AR: What is the proudest moment in your career?
MdM: I had great experience working at La Tour d'Argent and Taillevent. I am very proud of my award 'Maitre Cuisinier de France' as it's a real honour and recognition of my hard work.
AR: How would you describe a menu at Royal Palm?
MdM: Its European cuisine, which may have more French influence in its preparation but I also use local flavors of the island.
AR:  Do you use a lot of local ingredients and what products do you import?
MdM: I buy fish in Mauritius like snapper and garoupa, also fresh water king prawns and lobster. I used to import oysters from France but clients told me that they like local oyster better, so I started to offer Mauritian oyster. I buy beef and lamb from Australia, veal from France, certain vegetables I also import from France. It is a first time in my career I can order whatever I want, even if ingredients are very expansive, management never says to save money or buy cheaper products. I like that because when I use high quality ingredients I can create better dishes. Clients appreciate fresh and high quality products.
AR: I see that you have a few dishes on the menu which are typical for Mauritius like curry. How would you describe Mauritian cuisine?
MdM: To me it tastes more like Indian; locals use lots of garlic, onions and coriander. We have only 2 French chefs at Royal Palm, me and a pastry chef. The rest of the staff is local. They are hardworking people and they like learning. And I like learn from them about authentic Mauritian cuisine. When I have time off I visit local restaurants and always try something new.
AR: What do you like cooking the most?
MdM:  Fish. It is so delicate and sometimes difficult to cook. I personally prepare smoked Marlin which is a real specialty of Indian Ocean. I also like cooking vegetables, its important not to overcook it and preserve the vitamins and natural taste.
AR:  You have so many nationalities from different parts of the world visiting Royal Palm, how do you make sure everybody is happy with the menu?
MdM: I try to diverse the menu and offer something for everybody's taste. I also listen to what clients want and try to meet their expectations.
AR:  I have noticed that wine list contains mostly of the French wine. How do you pick the wine which goes best with your dishes?
MdM:  The restaurant has a sommelier who orders wine, we work together closely. I prepare a food and we try it together with wine to make sure we have a few options which could go well with the menu selection.
AR: Do you have any plans to move back to France?
MdM: Not at the moment, my family is very happy here and I like working at Royal Palm. It's a beautiful place with friendly and nice people and I feel that this is my home for now.
Its been a real pleasure staying at Royal Palm and I was happy to say personally to Mr. de Matteis how much I enjoyed the food.