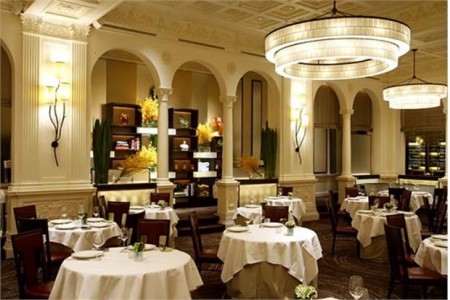 Bill:
$$$$$
Service:
☆ ☆ ☆ ☆ ☆
Address:
60 E 65th St, New York
Telephone:
+1 212 288 0033
Website
It is difficult to imagine the venue that is able to delight the senses more than the restaurant Daniel that is located in the center of Manhattan's Upper East Side. An award-winning chef presents sophisticated French cuisine that gets inspiration from seasonal foods.
The restaurant presents contemporary cuisine with best ingredients of the season. Custom menu can be created for every visitor of the place.
The design accentuates the grandeur of the place therefore it is ideal for such festive events as weddings, anniversaries and etc. The Pastry Chef Ghaya Oliveira can create amazing cake for your party.  The team serving private events care about all aspects of the party, including decoration with flowers, customizing the menu and choosing wines to the meals.
The wine cellar includes 2000 labels that were carefully selected by the sommelier. All wines are of utmost quality. The cellar has enough room for 25000 bottles stored at right temperature and conditions.  There is selection of wines to any budget from $25 per bottle to the most expensive ones.
There is a room for private dining and inviting Bar & Lounge that can boast of creative cocktails. The restaurant offers a la carte dishes and extravagant desserts.
Bellecour Room used for private dining is named after historical square in the chef's hometown. The guests can get private experience at this place. Multiple windows that face East 65th Street make an interesting setting and illuminate the room along with interior lighting.
You have a chance to enjoy exquisite cuisine in Bellecour Room that accommodates 90 guests. Up to 150 people can be invited to standing reception.
The Main Dining room is good for seated event with 140 people.
The atmosphere of elegant causality reigns in Daniel. The staff is attentive to every wish of the client. Among the recommended dishes are black sea bass with syrah sauce, grilled swordfish, duck terrine. Order warm chocolate coulant for dessert, or mint-scented strawberries. A three-course meal will cost about $120 and you will have to pay $195 for six-course meal.