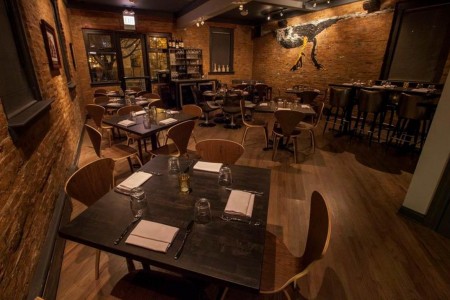 Bill:
$$$$
Service:
☆ ☆ ☆ ☆ ☆
Address:
2701 S Eleanor St, Chicago, IL
Telephone:
+1 312 724 8811
Website
The Duck Inn is gastro-tavern and a dining room that is located in Bridgeport neighborhood, at Loomis Street near Chicago River. There was an old tavern at this place before. It had been functioning for over a century from pre-prohibition period. His great-grandmother was the owner of McKinley Park in the 1930s. Now a new tavern came to replace it and did it successfully. Old corner tavern turned into nice dining destination, liked by the locals.
The chef of the restaurant is Michelin rated chef Kevin Hickey.  His name is known in the dining scene. Kevin Hickey worked for luxury Four Seasons in the past and contributed to the development of New American Cuisine. Now he entered the gourmet casual scene as a partner and a chef.
The restaurant includes a small dining room with a duck mural on the wall and bigger major section highlighted with a bar, where marvelous cocktails are mixed.
You can enjoy excellent dishes of American cuisine here prepared of fresh ingredients. Risotto can be a good starter. It is served with spot prawns, uni butter, eucalyptus, and sea beans on top.
Roasted duck is a signature dish in this restaurant.  It is served with potatoes on a cutting board for two along with watermelon radish and tender sauce.
You may love sticky toffee pudding with spiced rum cream, which is the most popular dessert.
Try carrot and olive cake, light dessert, with orange sauce and ice-cream.
If you want to make the reservation you can do it for the dining room only. The bar and a lounge can't be reserved.
The emergence of venue with such excellent gourmet cuisine could not be skipped and restaurant critics paid attention to it. Phil Vettel, a critic of Chicago Tribune, said that The Duck Inn is worth visiting. He highly assessed the dishes mentioned above and rated the place three stars. You will also love this simple and unpretentious place that offers full flavored dishes at nice prices.