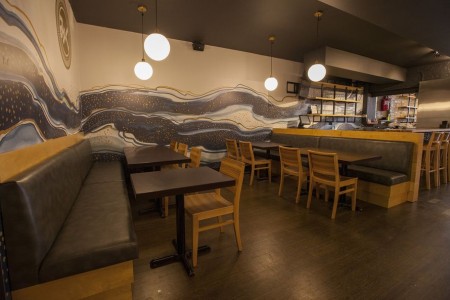 Bill:
$$$
Service:
☆ ☆ ☆ ☆ ☆
Address:
4514 Lincoln Ave Chicago, Illinois
Telephone:
+1 773 654 1277
Website
Miku Sushi Lounge is a new venue in Lincoln Square, Chicago. It was created inside the Laughing Bird and Tank Sushi space.
Though it was just opened, Chicago Magazine called it one of the hottest new venues of Chicago. You may not worry over the quality. With huge experience behind the belt of the owner, the new restaurant is going to be successful as well.
Hopefully, Miku Sushi Lounge will work long. After two closed venues in the last two years, all expect that it came to stay long on the market.
Tank Sushi, its predecessor, was closed last year, though business was great. However, Mr. Gianni, the owner of the place, needed a change. The fact that sushi is everywhere did not interfere with his business, but the owner did not want to own ordinary sushi restaurant. When new concept of a new Filipino appeared, the matter was settled. Tank Sushi was closed to open New Filipino restaurant called Laughing Bird. It was opened by Mr. Gianni and Ms. Camba who crafted a menu as her parents were born in Philippines. But Filipino-American fusion restaurant was closed in 6 months after its successful debut. When customers got accustomed to the idea to eat empanada instead of sushi, the sushi project came back with a new venue called Miku Sushi Lounge.
New dishes appeared in Miku Sushi Lounge in addition to old favorites. As you understand, many Tank dishes entered the menu of a new restaurant. For instance, its signature foie gras remained on menu. You have a chance to eat delicious tonkatsu ramen for lunch again. Order seared duck with pear to enjoy the meal. The customers love king crab appetizer, pork buns, miya rolls, flaming maki, spicy tuna ravioli and many other great dishes. The presentation of meals is artful. Beautifully arranged sashimi can add festive atmosphere to your occasion if you celebrate it in Miku Sushi Lounge.
The dining room and a bar are nicely decorated with wall art. Your old favorites will seem even more delicious in new intimate environment. The place is ideal for a date night. The owners breathed new life into their sushi project and customers can experience new exotic tastes such as grilled alligator on mini-skewers.